For this brief we were asked to design and create 4 life-sized Tyrannosaurus Rex's for the launch of Jurassic World – Fallen Kingdom. The T-Rex needed to be full size, realistic and stay true to the IP from the film franchise. As an additional challenge, the build had to travel as part of a tour and be able to be installed overnight and in a limited time frame.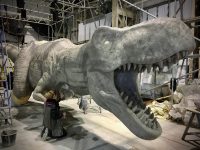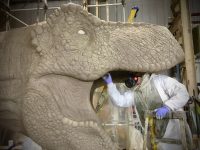 To start the process, Samantha, our head sculptor created a clay maquette of the dinosaur. The maquette was 1:25 in scale and was used to get client approval on the features, stance and look of the T-Rex. Once the maquette was approved we could then 3D scan this and use it as the base for the polystyrene 'skeleton' of the dinosaur.
Our 7 axis robot was programmed to mill the dino in sections. This was then pieced together over a metal framework and supported with a scaffold structure. The next step was to add the detail and a team worked on applying clay to the body of the dinosaur. Each scale on the T-rex was individually crafted and sculpted.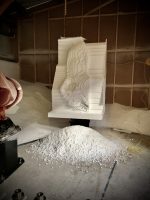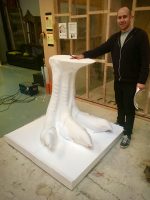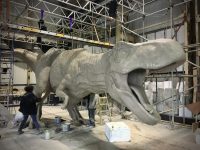 Sculpting a full sized T-Rex has been a dream of mine and a highlight of my career
Samantha Wild - Creative Director, Wild Creations
Once the sculpt was complete the moulding and casting team took over to make a mould of the highly complex shape. Four T-rex's were cast from the mould and joined and finished around a metal structure which made the dinosaurs secure.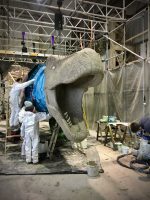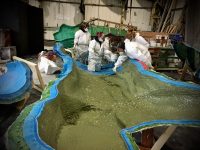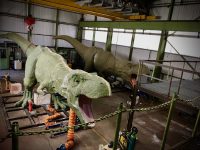 Our team of scenic artists ensured that each creation was painted to match the film references provided by the client as well as being realistic, even adding saliva to the jaws of the rex's!
To complete the builds we also created a glowing lava floor base for the dinosaurs to live on.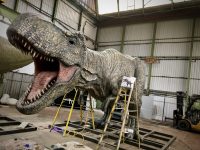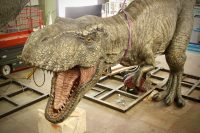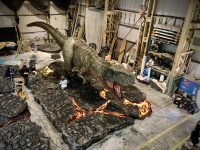 Our in house project management team planned and organised transport, installation and event logistics which saw the T-Rex's travel to London, Paris, Dusseldorf and even to the films Premier in Los Angeles.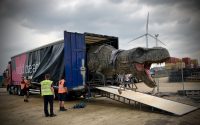 If you are after film quality production, Wild Creations are the ones for the job.

Their attention to detail, outstanding work ethic and high-standard of work, all ensure that they produce incredible content, time and time again.
Andrew Mullins - Creative Solutions Director, JCDecaux