The process for this project started with the client providing us with a model box for the blanket element. We then 3D scanned this and digitally edited the model and programmed this so it would be suitable to milling at a larger scale.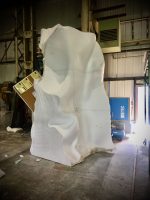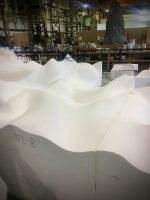 Once the polystyrene was milled in negative, this was finely finished to give a smooth surface. We then created a fibreglass lay up on top of this which picked up the flowing detail within the polystyrene.
The 'blanket' had to be flown from the ceiling of the theatre, but also had to move throughout the performance. Another challenge was the limited access we had to the theatre so the build had to have seams which could not be obvious when installed.